Charming Guest House
La Cour des Lauriers
About Us
A 17th Century Provencal House at 6km from Uzès
Evelyn will have a pleasure of welcoming you at La Cour des Lauriers, her charming bed and breakfast. In the close vicinity of Uzès (6km), La Cour des Lauriers is ideally situated in a peaceful environment. This authentic village house built in the 17th century with stones from the Gard offers access to a Provencal garden and a fountain.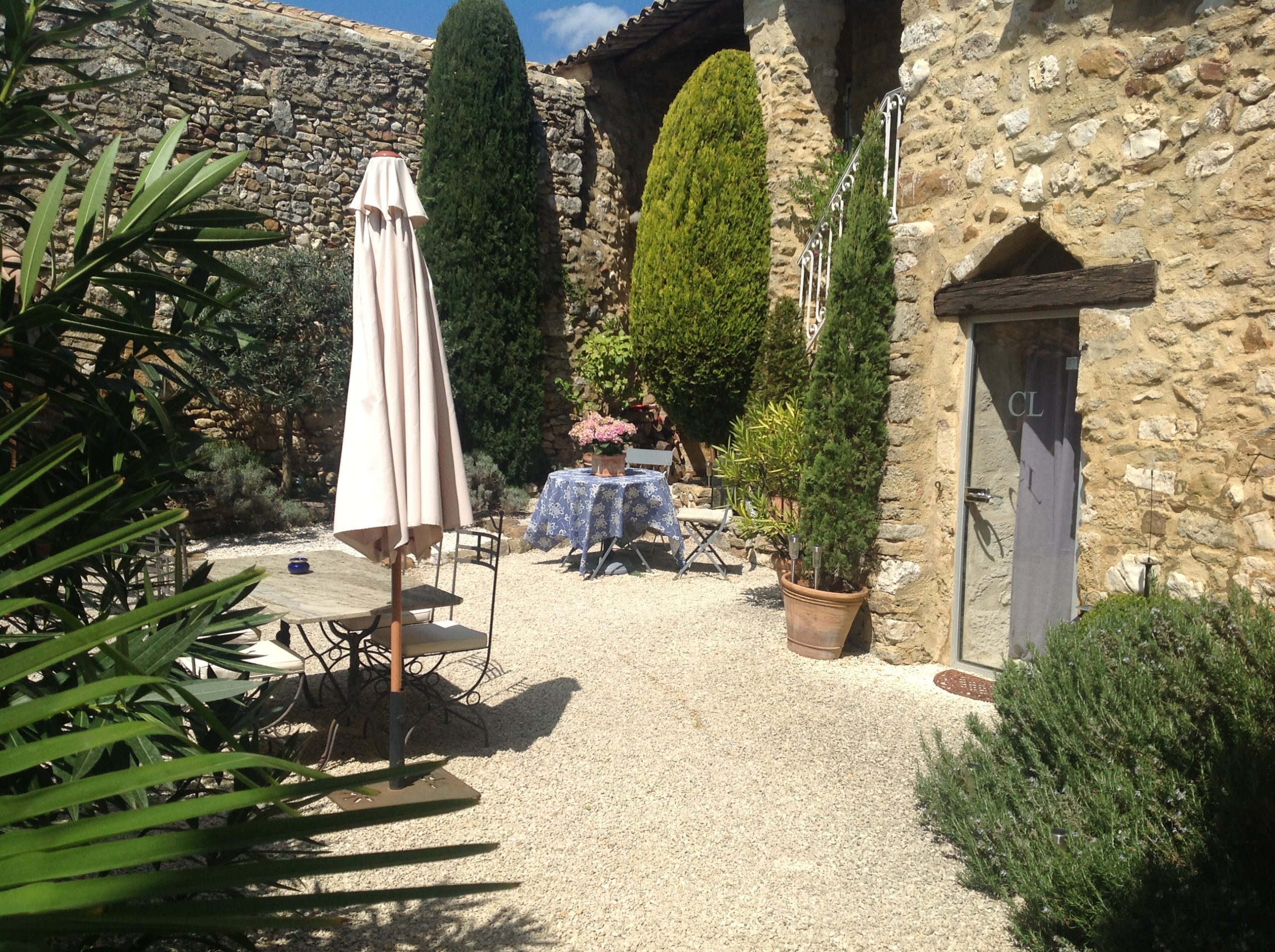 Discover
Rooms
The three rooms are comfortable and decorated with style. All open independently upon the center garden.
Food & Drink
In-House Services
Gourmet Breakfast
Gourmet breakfast is included with all rooms. English breakfast is à la carte and brunch is available upon request.
Coffee, Tea, Water, & Assorted Beverages
Complimentary coffee, tea and water are available in all rooms. Assorted beverages are available for purchase.
Table d'Hôtes Upon Request
Table d'hôtes must be booked at least 48 hours in advance. The fine dinner served is a typical Provencal 3 courses menu.
Visit Uzès in Style
We Have Vacancy!
Information
Nearby Attractions
Uzès and its surroundings offer a whole selection of activities. Whether you like heritage, nature, gastronomy or culture, a multitude of discoveries await you!
Gourmet Getaways and Local Crafts
The local craftsmen offer a multitude of fine and beautiful things, such as traditional potteries, wines, truffles, asparaguses, olives and oils. Also discover in the town of Uzès and its surroundings the colorful boutiques and the Provencal markets, which bring the region to life from winter to summer.
Festivals in the Region
In January: Week-end around the truffle in Uzès
In June: the international "story-telling" festival in Uzège, the "festival de la nouvelle danse" (a contemporary dance festival promoting young artists), the Comic Book festival in Uzès, the Ferias in Arles and Nimes.
In July: the Musical Nights festival and the World Music festival in Uzès, the famous annual arts festival in Avigno…
In August: The summer opera festival in Orange (Chorégies), the Fete Votive (Abrivado, Pegoulade…)
Sport Getaways
On ground: hiking, mountain biking, horseback riding, climbing, golf…
On water: swimming, canoe/kayak, fishing and canyoneering…
In the air: U.L.M., ballooning, paragliding, many thrilling sensations…
Cultural Getaways
Uzès and the surrounding villages from the Uzège region have been closely related for centuries under the dukedom of Uzès, the first dukedom of France. Your curiosity will be rewarded with historical remnants, such as the Uzès Dukedom (Duché d'Uzès), the Pont du Gard (a well preserved Roman aqueduct), the Saint Privat Castle (XIth- XVIIth century), the "Concluses de Lussan" (a spectacular natural limestone formation).
Other things to see are the museum of the Haribo candy-factory, the neighboring towns and sites in the region. Nimes – the antique arenas, the "Maison Carrée" (one of the best preserved Roman Temples), the "Carré d'Art" (the Modern Art Museum). Avignon – the "Pope City". The antique theater in Orange, the arenas in Arles, the wild country-side of the Camargue, Marseille and its "Calanques"…